While Cebu might be known more for its sandy beaches and beautiful sea, the mountains of Cebu are a place to behold as well. Restaurant owners are aware of the picturesque view that only high places can provide so they set up their restaurants on the mountainside to give you a wonderful dining experience with a great view. Here are some of the best mountainside restaurants that Cebu has to offer.
Anzani New Mediterranean Restaurant
Three words that best describe this restaurant: classy, high-end, and exclusive. Since 2009, Anzani New Mediterranean Restaurant has innovated its dining experience through its Mediterranean cuisine. Five-time awardee as "best of the best" and "Cebu's best" in the international sector for two straight years, Chef Marco Anzani prepares New Mediterranean Cuisine to a different palate.
This restaurant has received international recognition as the "Best Restaurant in Southeast Asia" by the IATHR in Madrid Spain 2011.
Using both local and imported ingredients around the world, Chef Marco has created a wide array of gourmet dishes, combining fresh ingredients, textures, and flavors that result in full flavors, a clean palate, and bring the perfect balance to the tastebuds. His 28 years of experience and working alongside Michelin star chefs significantly contributed resulting in a beautiful New Mediterranean gastronomic transformation.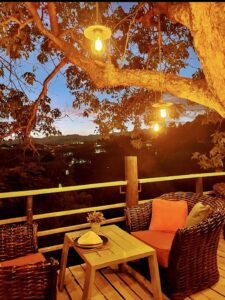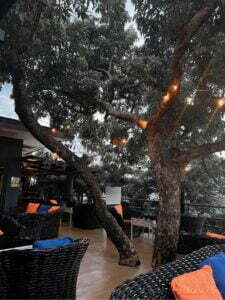 To dine in this restaurant, booking is preferable as the staff will surely give you the right table for the best experience.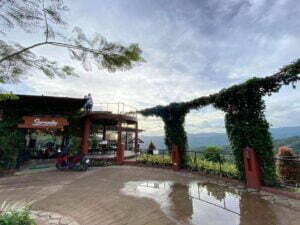 Situated in Busay, this cafe exudes an idyllic, simple, and relaxing vibe with an amazing view of the mountains of Cebu. 
Their specialties include Ube Pie and Burnt Basque Cheesecake which is really topnotch among the desserts to eat here in Cebu. That great experience doubles when you sip a cup of coffee while staring at the magnificent mountain view.
Cafe food isn't the only food they provide, they also serve Asian fusion cuisines that are just right for your palette. 
It is simply one of the best cafe restaurants for its beautiful scenery, relaxing ambiance, accommodating staff, and delicious food.
Opening Hours: 7am-9pm Sat-Sun and Holidays
9am-9pm Mon-Thur
11am-9pm Fri
Location: Serenity Farm and Resort Busay, Sitio Tiguib, Brgy., Cebu City, Cebu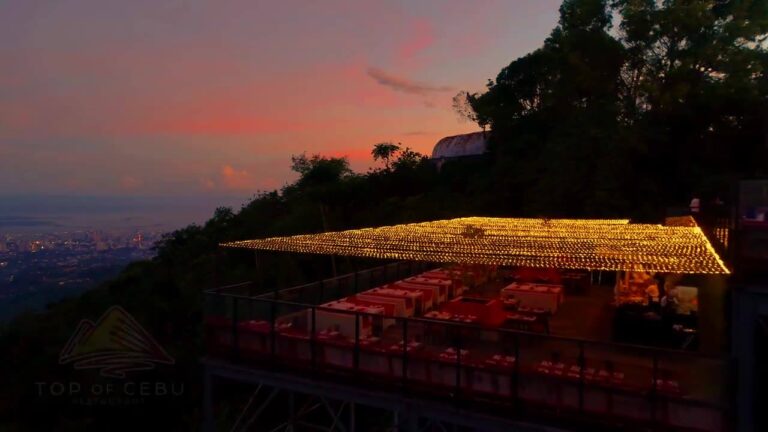 Top of Cebu has that 180-degree panoramic view that no other mountainside restaurant can have. During the day, you can see the green mountain slopes while the city and sea are meeting each other through Cebu's shorelines. While at night, the city light grants you that awesome nightscape view. All of that while dining on scrumptious Filipino and international food.
Some of the recommended dishes to order are Pancit de Cebu and Salted Egg Calamares. They use pancit canton noodles and crispy pancit noodles that have the right spicy and savory taste stir-fried well with the flavors of meat, seafood, and vegetables. The salted egg calamares are breaded and fried to perfection which gives it a chewy and crunchy taste with the additional flavoring of sprinkled salted egg powder. It comes with mango salsa and aioli dip to heighten up the flavor.
Opening Hours:  Monday – Thursday: 11AM – 10PM
Friday – Sunday: 11AM – 11PM
Location:  Brgy. Busay, Cebu Transcentral Highway, Cebu City
FB Page: https://facebook.com/topofcebu/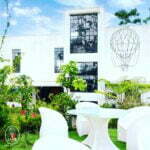 Just beside Top of Cebu, La Vie in the Sky also has that wonderful mountain view of Cebu but with a French ambiance. Like its lowland counterpart La Vie Parisienne, La Vie in the Sky is a French restaurant with the finest menu for classy and fine dining. It's the perfect place for you to Imagine yourself drinking a glass of fine wine while beholding the view.
A definite recommendation to try is their macarons, artisan pizza, oh-so-sweet gelato, and, of course, their wine. You cannot find authentic French wine anywhere else in Cebu than in La Vie. The macarons are always a popular choice among locals. Their artisan pizza has that distinct and unique taste. If you fancy dessert on the mountains, their gelato is right for your enjoyment.
Take note also that there is a 100 peso entrance fee but it is consumable.
Opening Hours: Tuesday 10AM – 1AM
 Other Days 9AM – 1AM
Location: Cebu Tops Rd. Cebu City, Philippines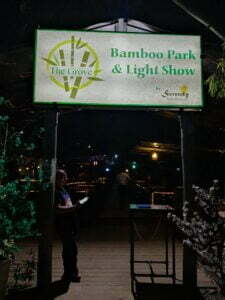 Although it has a nice mountain view, the main attraction of this place is the hundreds of bamboo planted around the restaurant. For the utmost experience, it's best to visit the restaurant at night as the bamboos are adorned with beautiful lights that can mesmerize you with amazing light shows. The place is inspired by Japan's Arashiyama Bamboo Grove while the light shows are inspired by the Symphony of Lights in Singapore.
There is an entrance fee of 200 pesos that is so worth it. There are also other events that are worth going like their movie nights that happens every Monday to Wednesday which costs 250 pesos. If being serenaded is your preference, then their acoustic nights from Thursday to Friday for 100 pesos is the right relaxing day for you.
The Grove serves boodle food, street food, and various alcoholic and non-alcoholic drinks.
Opening Hours: Every Day 3PM – 10PM
Location: Sitio Tiguib, Brgy. Malubog Cebu City, Philippines