1. Original Lechon
The whole pig or pork hang in a stick or rod to grill in the charcoal in a circular movement until it will cook. Before it will grill they put some seasoning to make the pork taste. As cooked it made the skin crispy and juicy meat. It was famous here in Cebu as some popular chef acknowledges the tastiness. Now, you can find several types like boneless Lechon, spicy Lechon, and even native pork Lechon.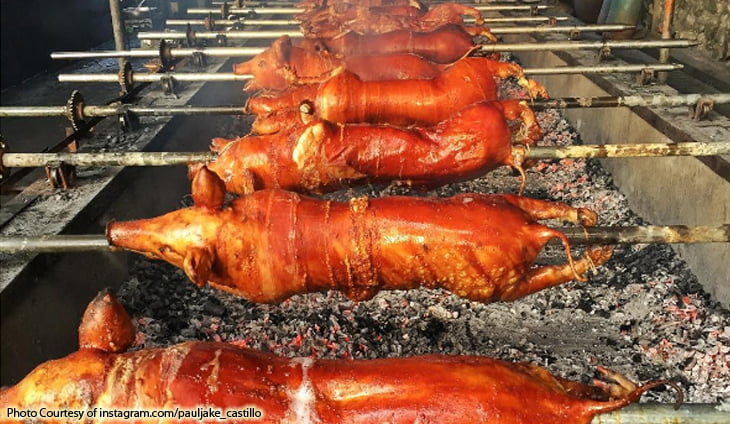 Usually Filipino eat during lunch or dinner. It is also popular serving during occasions like wedding, birthday and similar occasions. You can find anywhere, in the Mall and there are some local restaurants serve this as their main dish.
2. Crispy Pata
It's actually Filipino dish but you may try Cebuano taste. It's cooked the whole pork leg boiled until tender afterward deep-fried until golden and crispy. You may order as an alternative to the original Lechon as the taste has similar. It's always pair with Filipino sauce-like (Soy sauce and vinegar or Sweet and sour).
Usually, they eat at Lunch and Dinner. 2-4 people can eat in one order depending on the size. You can find it in the local restaurants.
3. Pochero
It's a beef soup with corn and cabbage. The bones with bone marrow that's included in the serving make more delicious.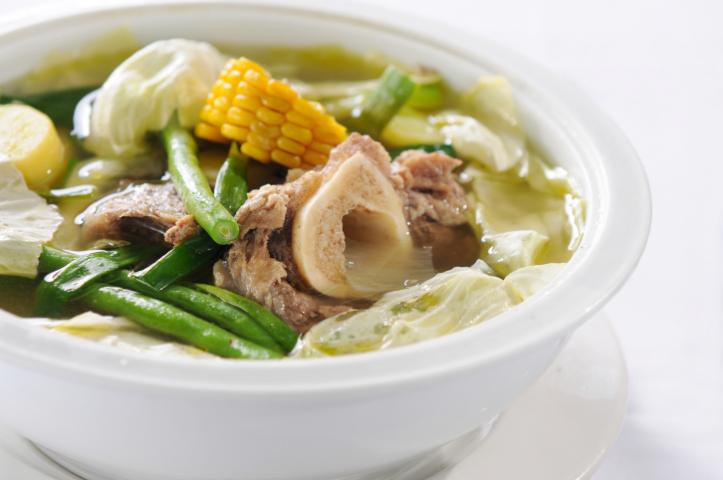 Usually they eat during lunch and dinner. You can find in some local restaurants but there is some famous restaurant that people keep coming.
4. Ngohiong
Is the local kin of a Spring Rool cook by deep-fried. Its derived from the word ngohiong-hun of Chinese means refer to the five-spice powder which part of the ingredients. The main ingredients include the singkamas (jicama) and ubod (Heart of coconut palm). The other vendors sell with their own style of taste and put some other ingredients like ground pork, garlic, and onions. You can't eat this w/o sauce and the sauce usually they use sweet and sour with a little spicy and the Puso' the rice in coconut leaves.
Most of the locals eat this along with w/ other fried food that includes chicken, processed food, among others.
Usually, they eat mostly lunch and best if hot. You can find in the Malls but there are most popular just in simple places in Cebu.
5. Tuna "Panga" (Jaw) Grilled
It is very popular in selected local restaurants in this dish. The Jaw of Tuna is much delicious in some other part so local love to eat this. Filipino sauce, Soy sauce, vinegar, calamansi and 1 pc spicy herb a common sauce but there are some restaurants offer variety.
Usually, they eat dinner, local loves to eat grilled during dinner. You can find some famous local restaurants.
6. Puto & Sikwate
This is the famous food of locals for breakfast and for a snack. The "Puto" is made of boiled sweet rice with milk of coconut. After cooked they put in the leave of banana in the shape of a triangle. Sikwate is a chocolate drink, but the chocolate is made of Cacao local chocolate that Spanish brought in the Philippines. Now, in some formal store/restaurant/cafe they also add 1 half of slice of Mango to pair in "Puto" to add sweetness and flavor.
Usually, they eat-in breakfast, in the public market, you will see a lot of locals eat this food. They usually eat during snack, noon time. Now you can find in the Mall as well in some kiosk.
IMPORTANT TIPS:
To enjoy your vacation it's important to watch the food that you eat. If possible avoid food that you may have diarrhea that probably gives you discomfort.